In-Game Examine Window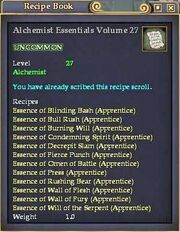 EverQuest II Recipe Book Information
Obtain:
This item can be purchased from Crafting Trainer vendorsfor

19s

 

20c

Link:
 \aITEM 141239557 215392502:Alchemist Essentials Volume 27\/a 

\aITEM 141239557 215392502:Alchemist Essentials Volume 27\/a
What does this information mean?
Where to Buy
Edit
From any of these tradeskill recipe merchants:
EQ2i credits this article at Census for the info in this article.
the last update on Census for this item was:
Tue, 19 Sep 2017 15:30:43 +0000
Ad blocker interference detected!
Wikia is a free-to-use site that makes money from advertising. We have a modified experience for viewers using ad blockers

Wikia is not accessible if you've made further modifications. Remove the custom ad blocker rule(s) and the page will load as expected.