You may upload a JPG or PNG image of the in-game examine window.
EverQuest II Item Information
What does this information mean?
You may upload a JPG or PNG image of the in-game examine window.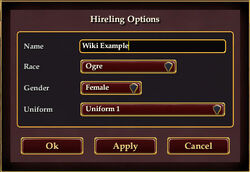 See the Guild Hall Amenities page for a list of all amenities.
About the Advanced Adventure Writ Agent Hireling
Edit
A Advanced Adventure Writ Agent is a NPC.
It functions just like a normal writ NPC.
Completing writs earn status points that can be used to contribute to the upkeep of the guild hall.
Hireling Options
Edit
R click and choose Customize from the list. You can set the following"
Name -Like character names, you can not choose a name with a copyright (e.g. Luke Skywalker) or one that is obscene.
Race - choose any of the playable races for the hireling
Sex - choose to make the hireling female or male
Uniform - you must have at least one Uniform Mannequin amenity to set a uniform.
Levels Supported
Edit
The in game description states that this hireling supports writs that deal with the continents of Kunark, Odus and Velious. However, it also supports the Tranquil Sea and Phantom Sea areas.
Ad blocker interference detected!
Wikia is a free-to-use site that makes money from advertising. We have a modified experience for viewers using ad blockers

Wikia is not accessible if you've made further modifications. Remove the custom ad blocker rule(s) and the page will load as expected.