What does this information mean?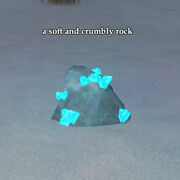 You receive Yutte Rocksword's Rock Acid.
You must go to the barren pines between the Crystalline Crevasses and Ry'Gorr Ruins and collect velium crystals from soft and crumbly rocks.
Melt 5 soft and crumbly rocks to get velium crystals. Apply the acid, then loot the resulting velium crystal
Return to Yutte
At least

14g

 

90s

 

39c

One of the following:
Ad blocker interference detected!
Wikia is a free-to-use site that makes money from advertising. We have a modified experience for viewers using ad blockers

Wikia is not accessible if you've made further modifications. Remove the custom ad blocker rule(s) and the page will load as expected.