In-Game Examine Window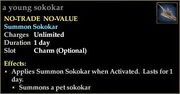 EverQuest II Item Information
a young sokokar

 
ORNATE  LORE  NO-TRADE  NO-VALUE
Summon Sokokar
Charges
Unlimited
Casting
2 seconds
Duration
10 days
Recast
0.0 seconds
Effects:

Applies Summon Sokokar when Activated. Lasts for 10 days.



Obtain: Reward from the quest "Here in my Sokokar I Feel Safest of All" in Kylong Plains.
\aITEM 630118943 186401656:a young sokokar\/a \aITEM 630118943 186401656:a young sokokar\/a
What does this information mean?
This summons a pet sokokar that follows you around.
This "fluff" pet charm should not be confused with the travel system that utilizes Sokokar in the Kunark zones.
EQ2i credits this article at Census for the info in this article.
the last update on Census for this item was:
Tue, 24 Oct 2017 20:47:45 +0000
Ad blocker interference detected!
Wikia is a free-to-use site that makes money from advertising. We have a modified experience for viewers using ad blockers

Wikia is not accessible if you've made further modifications. Remove the custom ad blocker rule(s) and the page will load as expected.