In-Game Examine Window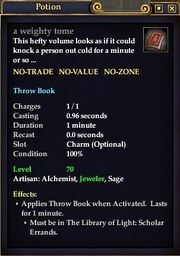 EverQuest II Item Information
a weighty tome

This hefty volume looks as if it could knock a person out cold for a minute or so ...
 
NO-TRADE  NO-VALUE  NO-ZONE
Throw Book
Charges
(1/1)
Casting
1 second
Duration
1 minute
Recast
0.0 seconds
Alchemist, Jeweler, Sage
Level
70 (Tier 8)
Effects:

Applies Throw Book when Activated. Lasts for 1 minute.

Must be in The Library of Light: Scholar Errands.



Obtain: [How can I get one?] try LootDB or the linkback
\aITEM -1825684299 778236006:a weighty tome\/a \aITEM -1825684299 778236006:a weighty tome\/a
What does this information mean?
EQ2i credits this article at Census for the info in this article.
the last update on Census for this item was:
Tue, 24 Oct 2017 20:51:57 +0000
Ad blocker interference detected!
Wikia is a free-to-use site that makes money from advertising. We have a modified experience for viewers using ad blockers

Wikia is not accessible if you've made further modifications. Remove the custom ad blocker rule(s) and the page will load as expected.