In-Game Examine Window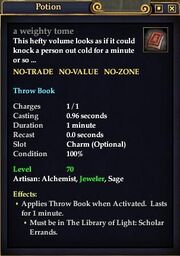 A weighty tome
This hefty volume looks as if it could knock a person out cold for a minute or so...

NO-TRADE   NO-VALUE   NO-ZONE
Throw Book
 
Charges
1/1
Casting
0.96 seconds
Duration
1 minute
Recast
0.0 seconds
Slot
Charm (Optional)
Level
70 (Tier 8)
Artisan: Alchemist, Jeweler, Sage
 
Effects:


Applies Throw Book when activated. Lasts for 1 minute.

Must be in The Library of Light: Scholar Errands.
Obtain: [How can I get one?] try LootDB or the linkback
What does this information mean?