Ad blocker interference detected!
Wikia is a free-to-use site that makes money from advertising. We have a modified experience for viewers using ad blockers

Wikia is not accessible if you've made further modifications. Remove the custom ad blocker rule(s) and the page will load as expected.
In-Game Examine Window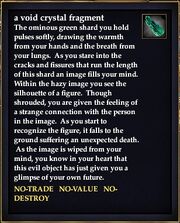 EverQuest II Item Information
Type: Quest Item

A void crystal fragment

The ominous green shard you hold pulses softly, drawing the warmth from your hands and the breath from your lungs. As you stare into the cracks and fissures that run the length of this shard an image fills your mind. Within the hazy image you see the silhouette of a figure. Though shrouded, you are given the feeling of a strange connection with the person in the image. As you start to recognize the figure, it falls to the ground suffering an unexpected death. As the image is wiped from your mind, you know in your heart that this evil object has just given you a glimpse of your own future.
 
 
NO-TRADE  NO-VALUE  NO-DESTROY
Required by the Quest
'A Champion of the Koada'Dal

Obtain:

A Champion of the Koada'Dal: From the corpse of Thurindor Felltree in New Tunaria.
Corruption of the Faydark: From the corpse of Ironwood the Cruel in the Lesser Faydark.
\aITEM 224419065 -820038950:a void crystal fragment\/a \aITEM 224419065 -820038950:a void crystal fragment\/a
What does this information mean?