In-Game Examine Window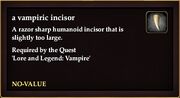 EverQuest II Item Information
Type: Reagent

A vampiric incisor

A razor sharp humanoid incisor that is slightly too large
 
NO-VALUE

Obtain: From the corpse of all vampires.
What does this information mean?
This is used as the reagent for silver charm, a charm that grants a 6-hour illusory vampire form.
Also used in the Vampire Lore & Legend quest, you must inspect 20.