In-Game Examine Window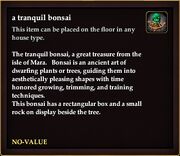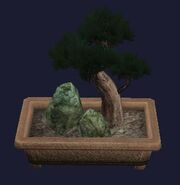 EverQuest II Item Information
Type: House Item
Subtype: Plant

A tranquil bonsai

The tranquil bonsai, a great treasure from the Isle of Mara. Bonsai is an ancient art of dwarfing plants or trees, guiding them into aesthetically pleasing shapes with time honored growing, trimming, and training techniques. This bonsai has a rectangular box and a small rock on display beside the tree.
 
 
LORE  NO-TRADE  NO-VALUE

Obtain: Purchase Fallen Dynasty, then /claim A bonsai pot.
Ad blocker interference detected!
Wikia is a free-to-use site that makes money from advertising. We have a modified experience for viewers using ad blockers

Wikia is not accessible if you've made further modifications. Remove the custom ad blocker rule(s) and the page will load as expected.