In-Game Examine Window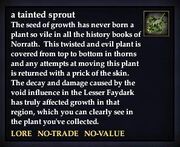 EverQuest II Item Information
Type: Quest Item

A tainted sprout

The seed of growth has never born a plant so vile in all the history of books of Norrath. This twisted and evil plant is covered from top to bottom in thorns and any attempts at moving this plant is returned with a prick of the skin. The decay and damage caused by the void influence in the Lesser Faydark has truly affected growth in that region, which you can clearly see in the plant you've collected.
 
LORE  NO-TRADE  NO-VALUE

Obtain: Harvested from A Mystical Revelation during the quest The Void Influence.
\aITEM 1080426120 451180520:a tainted sprout\/a \aITEM 1080426120 451180520:a tainted sprout\/a
What does this information mean?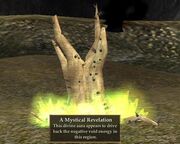 Ad blocker interference detected!
Wikia is a free-to-use site that makes money from advertising. We have a modified experience for viewers using ad blockers

Wikia is not accessible if you've made further modifications. Remove the custom ad blocker rule(s) and the page will load as expected.