For other articles with related titles, see a spongiform zombie.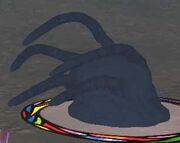 .
What does this information mean?
You may upload a JPG or PNG image of the in-game picture of this mob
This creature was found after killing all the blue widow spiders in front of Blackburrow in Antonica. This information is credited to Koree of the Everfrost server, as she is the one who discovered them. The zombie looks like a little mottled green beetle, the false widow spider spawns with it as a paired target, and is also green with little spots. Easy to catalogue.
Related Quests
Edit