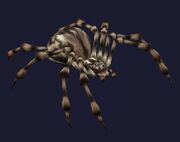 .
What does this information mean?
You may upload a JPG or PNG image of the in-game picture of this mob
Related Quests
Edit
Level 19-21 spinners can be found on both sides of the river near The Commonlands gate.
Level 24-25 spinners can be found in the forest near the Hidden Beach Path.