In-Game Examine Window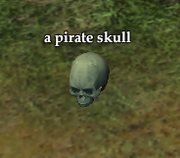 EverQuest II Item Information
What does this information mean?
Examine it to be prompted to place it on the ground. if you place it anywhere other than on the rock by The Guurok, it will vanish.
Place 6 of them on the rock in front of The Guurok to get it to 'spawn' into an attackable form.