In-Game Examine Window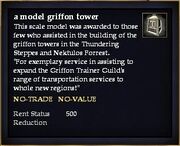 EverQuest II Item Information
Type: House Item

a model griffon tower

This scale model was awarded to those few who assisted in the guilding of the griffon towers in the Thundering Steppes and Nektulos Forrest.


"For exemplary service in assisting to expand the Griffon Trainer Guild's range of transportation services to whole new regions!"

 
NO-TRADE  NO-VALUE
Rent Status
Reduction
500

Obtain: Purchased from a Noble Taig Rhul for 1 Loyalty Point Tokens.
What does this information mean?
Formerly a Reward for building griffon towers after LU16.
This is a non-functional item. It does not scale in size like the various druid rings (e.g. White Granite Druid Ring).