In-Game Examine Window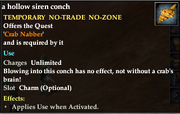 A hollow siren conch

TEMPORARY   NO-TRADE   NO-ZONE
Offers the Quest
'Crab Nabber'
and is required by it
Use
 
Charges
Unlimited
Slot
Charm (Optional)
Level
100 (Tier 11)
 
Effects:


Applies Use when activated.
Obtain: From the Body Chest of siren coercer in Zek, the Scourge Wastes.
What does this information mean?