In-Game Examine Window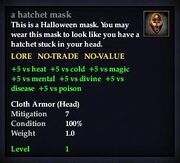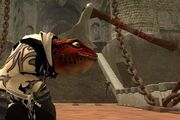 A hatchet mask
This is a Halloween mask. You may wear this mask to look like a cat.

LORE  NO-TRADE  NO-VALUE
 
Cloth Armor (Head)
Mitigation
7
Level
1 (Tier 1)
 
Obtain: Reward from the quest, Ghost Hunting.
What does this information mean?
This is one of the masks you can choose when you catch the when you qualify for a medium prize.
Current versions of the Nights of the Dead masks do not have any stats beyond 7 Mitigation.
About older versions:
The old version of this mask was from the (now retired) quest, Trick or Treat.
The old version had stats, the new do not.
Ad blocker interference detected!
Wikia is a free-to-use site that makes money from advertising. We have a modified experience for viewers using ad blockers

Wikia is not accessible if you've made further modifications. Remove the custom ad blocker rule(s) and the page will load as expected.