Ad blocker interference detected!
Wikia is a free-to-use site that makes money from advertising. We have a modified experience for viewers using ad blockers

Wikia is not accessible if you've made further modifications. Remove the custom ad blocker rule(s) and the page will load as expected.
In-Game Examine Window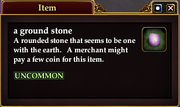 EverQuest II Item Information
A ground stone

A rounded stone that seems to be one with the earth. A merchant might pay a few coin for this item.
 
 
UNCOMMON
Obtain: [How can I get one?] try LootDB or the linkback
What does this information mean?
Common loot drop from elemental or earth type creatures. These can be sold to a Merchant or on the Broker.