In-Game Examine Window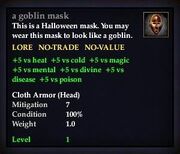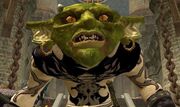 A goblin mask
This is a Halloween mask. You may wear this mask to look like a cat.

LORE  NO-TRADE  NO-VALUE
 
Cloth Armor (Head)
Mitigation
7
Level
1 (Tier 1)
 
Obtain: Reward from the quest, Ghost Hunting.
What does this information mean?
This is one of the masks you can choose when you catch the fewest number of ghosts.
Current versions of the Nights of the Dead masks do not have any stats beyond 7 Mitigation.
About older versions:
The old version of this mask was from the (now retired) quest, Trick or Treat.
The old version had stats, but all stats were removed from new versions.
Ad blocker interference detected!
Wikia is a free-to-use site that makes money from advertising. We have a modified experience for viewers using ad blockers

Wikia is not accessible if you've made further modifications. Remove the custom ad blocker rule(s) and the page will load as expected.