In-Game Examine Window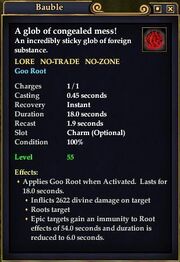 A glob of congealed mess!
An incredibly sticky glob of foreign substance.

LORE   NO-TRADE   NO-ZONE
Goo Root
 
Charges
1/1
Casting
0.45 seconds
Recovery
Instant
Duration
8 minutes
Recast
1.9
Slot
Charm (Optional)
Level
55 (Tier 6)
 
Effects:


Applies Goo Root when Activated.

Inflicts 2622 divine damage on target.
Roots target
Epic targets gain an immunity to Root effects of 54.0 seconds and duration is reduced to 6.0 seconds.
Obtain: The Fountain next to Furdip in Fountain of Frenzied Blood
What does this information mean?
Ad blocker interference detected!
Wikia is a free-to-use site that makes money from advertising. We have a modified experience for viewers using ad blockers

Wikia is not accessible if you've made further modifications. Remove the custom ad blocker rule(s) and the page will load as expected.