For other articles with related titles, see a false widow spider.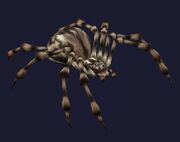 .
What does this information mean?
You may upload a JPG or PNG image of the in-game picture of this mob

New information from a shadowknight named Dedeca. She discovered the False Widow and the Spongiform Zombie while questing in the Common Lands at =80.99, -41.37, -866.80 with an orientation of 0.00.
This time the mob was level 23. Just another location for those wishing to finish the Creepy Catalogue quest during NOTD:)
Related Quests
Edit