Ad blocker interference detected!
Wikia is a free-to-use site that makes money from advertising. We have a modified experience for viewers using ad blockers

Wikia is not accessible if you've made further modifications. Remove the custom ad blocker rule(s) and the page will load as expected.
For other articles with related titles, see a false widow spider.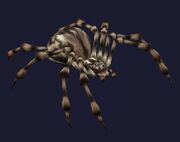 .
What does this information mean?
You may upload a JPG or PNG image of the in-game picture of this mob

New information from a shadowknight named Dedeca. She discovered the False Widow and the Spongiform Zombie while questing in the Common Lands at =80.99, -41.37, -866.80 with an orientation of 0.00.
This time the mob was level 23. Just another location for those wishing to finish the Creepy Catalogue quest during NOTD:)
Related Quests
Edit