Ad blocker interference detected!
Wikia is a free-to-use site that makes money from advertising. We have a modified experience for viewers using ad blockers

Wikia is not accessible if you've made further modifications. Remove the custom ad blocker rule(s) and the page will load as expected.
In-Game Examine Window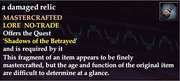 EverQuest II Item Information
Type: Quest Item

A damaged relic

This fragment of an item appears to be finely mastercrafted, but the age and function of the original item are difficult to determine at a glance.
 
 
MASTERCRAFTED
LORE  NO-TRADE
Offers the Quest
'Shadows of the Betrayed'
and is required by it

Obtain: In the mail approximately 2 weeks after finishing all the 'Researching Quel'ule' quests
What does this information mean?