Ad blocker interference detected!
Wikia is a free-to-use site that makes money from advertising. We have a modified experience for viewers using ad blockers

Wikia is not accessible if you've made further modifications. Remove the custom ad blocker rule(s) and the page will load as expected.
In-Game Examine Window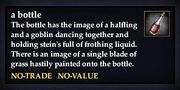 EverQuest II Item Information
Type: Quest Item

A bottle

This bottle has the image of a halfling and a goblin dancing together and holding stein's full of frothing liquid. There is an image of a single blade of grass hastily painted onto the bottle.
 
 
NO-TRADE  NO-VALUE

Obtain: Spawns in random locations around the Defiled Forest and the Bridge of Zek during the quest Starving For Information
\aITEM -1920103721 1414181337:a bottle\/a \aITEM -1920103721 1414181337:a bottle\/a
What does this information mean?
Related Quests
Edit