In-Game Examine Window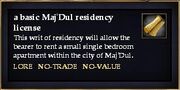 EverQuest II Item Information
A basic Maj'Dul residency license

This writ of residency will allow the bearer to rent a small single bedroom apartment within the city of Maj'Dul.
 
LORE  NO-TRADE  NO-VALUE
Obtain: This item can be purchased from Court Treasures vendors
What does this information mean?
Required to buy Simple Maj'Dul apartment (the only small apt. in the city).
This can be purchased from a faction merchant in one of the buildings for any of the courts in Maj'dul by by anyone who has sufficient faction in Maj'Dul with one of the following: The Court of Truth, The Court of Coin, or The Court of Blades
If you loot or buy the following tokens from the broker, you can speed up your faction gain. If you buy them, make sure they are from one of the two factions you are not trying to increase faction with before you turn them in to, since all three are opposed to each other.
In order to buy each type of residence (by size), the specific the residency licenses in the table below are required. This means that buying the most expensive (Affluent Maj'Dul residency license will not give you the freedom to buy the other two house types.
It is not required to upgrade to the larger homes, because each type (small, medium, and large) requires a separate licence.
Ad blocker interference detected!
Wikia is a free-to-use site that makes money from advertising. We have a modified experience for viewers using ad blockers

Wikia is not accessible if you've made further modifications. Remove the custom ad blocker rule(s) and the page will load as expected.