For other articles with related titles, see Baby Dragons.

In-Game Examine Window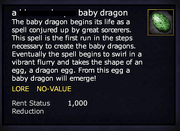 EverQuest II Item Information
Type: House Item
Subtype: House Pet

A baby dragon

This item can be placed in your house or guild hall.
 
LORE  NO-VALUE
Rent Status
Reduction
1000

Obtain: Purchase the collectors edition of Everquest II, then /claim a dragon egg
What does this information mean?
All the dragons function the same when you place them in a house, the only difference is color.
Item codes are available on the talk page.
Fun facts: this item is from the very first collectors edition of the game in 2004.
If you can find and buy a copy unsealed, the baby dragon is likely to be claimed (gone), but if you find one still factory sealed, it should have the card with a code to enter to get this house pet.
The original collectors edition came in a tin themed for the game, in the era when software was still primarily sold and loaded using CDs. It also contained game booklets, a poster and more.