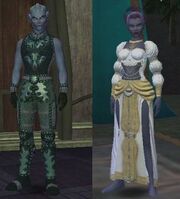 .
What does this information mean?
You may upload a JPG or PNG image of the in-game picture of this mob
Related Quests
Edit
All in the valley around the Hidden Gorge (credit to ZAM), but most likely found around -1360, 0, -1360. There are Thexian camps scattered everywhere, but I think they wander by themselves. I found only one after checking the whole area (might be a rare or uncommon spawn - maybe try killing all the other Thexians?) at -1,407, 43, -1,476.
Killing this monster does not affect any faction.
Ad blocker interference detected!
Wikia is a free-to-use site that makes money from advertising. We have a modified experience for viewers using ad blockers

Wikia is not accessible if you've made further modifications. Remove the custom ad blocker rule(s) and the page will load as expected.