What does this information mean?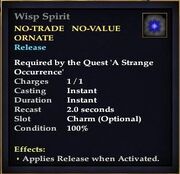 Do the following:

Collect a deer carcass ( 318, -27, -70 ) 

/waypoint 317.80, -27.19, -69.57

.
Kill a wolf.
Release the wisp item in inventory near the adolescent snarler Wolves.

The Wisp is in your inventory.
Note that you need to be on the exact spot to be able to release the wisp - not just in the ROI area

Return to Nemain.