What does this information mean?

This is an unlimited repeatable quest
This gives access to an instanced dungeon, a small hideout. This dungeon is targeted at groups level 15-20. There is disagreement on OGaming whether every party member needs the gem, or only one. Note: everyone in my party needed one.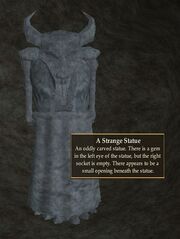 Examine the gem.
Go to the very Northern edge of Windstalker Highlands (this is where Fangbreaker Keep and the Ulteran Spires (Ant) are found. Carefully drop down onto a ledge halfway to the ground far below. Location of this ledge is ( -2059, 7, -739 ) 

/waypoint -2059, 7, -739

.
Enter the cave and click on the statue at the back. Insert the gem into the eye.
Every party member must be on the quest for entrance.
Ad blocker interference detected!
Wikia is a free-to-use site that makes money from advertising. We have a modified experience for viewers using ad blockers

Wikia is not accessible if you've made further modifications. Remove the custom ad blocker rule(s) and the page will load as expected.