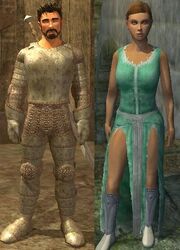 .
What does this information mean?
You may upload a JPG or PNG image of the in-game picture of this mob
Drop's Najena's Key and initiates the lockout timer for zone.
As of around 5/5/09, this mob was buffed to cast a VERY nasty Arcane detrimental:
Mandate:
Forces Target to clear their selected target
Prevents target from changing targets
Interrupts target
Disarms Primary, Secondary and Ranged slots of target
When target begins casting a spell this spell will cast Interruption on target:
Inflicts 227-530 magic damage on target
Interrupts target
Throws target back
When target uses a combat art this spell will cast Shock on target. Lasts for 9 seconds:
Stuns target
Interrupts target
Epic targets gain immunity to stun effects of 27 seconds and duration is reduced to 3 seconds
Mob likes to cast this every 15-30 seconds in my experience. Beyond annoying, cure ASAP or enjoy your new (short)life as a training dummy.