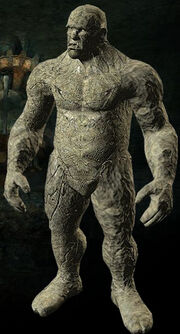 .
EverQuest II Named Monster Information
Zone (Patch)
Sebilis (Rise of Kunark)
Race
Golem
Level
84▲▲▲ Tier 9 Heroic , (Approx. HP: 360,000)
Location
Just past and around the corner from the praetorian barracks area. ( 39, -123, 438 ) 

/waypoint 39, -123, 438

Reported Drops
none reported, try LootDB.
AA Exp
yes
Status Points
unknown
What does this information mean?
Beware a very nasty knockback from him. If you haven't cleared a WIDE area around him, the knockback will aggro other mobs and wipe your group. Beware of the rock falling AE that can continue even after it is dead. Only known way to get rid of it is blue AE it yourself, evac, maybe feign death (?).