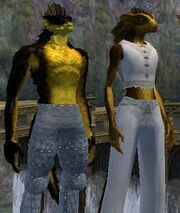 .
What does this information mean?
You may upload a JPG or PNG image of the in-game picture of this mob
Whipcrackers are found from ( -9, -116, 355 ) /waypoint -9.00, -116.37, 355.00 
through the area with the pond at ( -85, -116, 385 ) /waypoint -85.00, -116.37, 385.00 
through the room where Remkit is found and into the room where the Sathirian Slavemaster is located.
There are solo whipcrackers and whipcrackers linked with a Reet slave. Never during the entire time I spent getting my updates did I take a Reet faction hit, even when killing the Reet slave. The other Reet slaves around the area never aggroed us, but we were kind of careful around them, but not too careful. The pond mentioned above is a great place to stand in while pulling whipcrackers. Our warlock had a small AOE proc on a piece of gear and standing in the pond kept us separated from the Reets enough to not get aggro.
Related Quests
Edit