What does this information mean?
Description
Edit
Kalmath Gusinga runs a path from the Entrance from Greater Faydark and through the stable master near Tunare's Grove.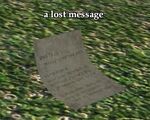 Harvest lost messages on the ground near the entrance to Greater Faydark ( -660, 54, 190 ) 

/waypoint -660, 54, 190

Return to the Royal Messenger (Kalmath Gusinga) with the lost messages (somewhere around ( 49, -36, 244 ) 

/waypoint 49, -36, 244

)
NOTE: The pages are near the Sharpthorn creatures, which you have to kill anyway for the (Fun with Hemotoxins) quest you get from the Nybright camp, so you may as well do them both together.
At least

9g

 

13s

 

1c

Faction: +100 The City of Kelethin
Ad blocker interference detected!
Wikia is a free-to-use site that makes money from advertising. We have a modified experience for viewers using ad blockers

Wikia is not accessible if you've made further modifications. Remove the custom ad blocker rule(s) and the page will load as expected.