What does this information mean?

This quest is part 1 of a 4-quest series in the Qeynos Districts Timeline.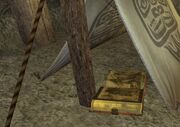 Slay a Dustpaw guard (level 10) at the tent at ( 20, 5, -70 ) 

/waypoint 20, 5, -70

.
Pick up the Book of Gnollish Orders ( 21, 5, -68 ) 

/waypoint 20.83, 4.92, -68

from the tent.
Doubleclick Book of Gnollish Orders to try to read it
Slay more a Dustpaw guards until you get a quest update.
Return to Consul Bree for your reward.
Ad blocker interference detected!
Wikia is a free-to-use site that makes money from advertising. We have a modified experience for viewers using ad blockers

Wikia is not accessible if you've made further modifications. Remove the custom ad blocker rule(s) and the page will load as expected.