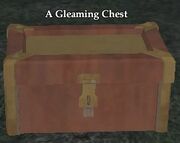 Purpose
Notes
You must have completed the following quests in order for the gleaming chest to appear in The Hedge Hollow.
The gleaming lockpicks will not show up in your inventory but the game remembers them.
There is no lockout timer on The Hedge Hollow so you can re-enter the zone right away.
Only AFTER you have completed those three steps will the gleaming chest appear.

| | |
| --- | --- |
| | This article refers to events, personae and activities only present in-game during the annual Nights of the Dead festivities, which come to Norrath each year from (roughly) mid- to late-October through to early- to mid-November. |