In-Game Examine Window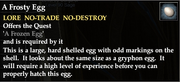 EverQuest II Item Information
Type: Quest Item

A Frosty Egg

This is a large, hard shelled egg with odd markings on the shell. It looks about the same size as a gryphon egg. It will require a high level of experience before you can properly hatch this egg.
 
 
LORE  NO-TRADE  NO-DESTROY
Offers the Quest
'A Frozen Egg'
and is required by it

Obtain: Granted by claiming the 'Destiny of Velious Digital CE: Stormfeather Brood Guardian'
What does this information mean?
Used to obtain a Stormfeather Brood Guardian flying mount.
Must have completed either/both of the adventure or tradeskill flying mount quest series.
Ad blocker interference detected!
Wikia is a free-to-use site that makes money from advertising. We have a modified experience for viewers using ad blockers

Wikia is not accessible if you've made further modifications. Remove the custom ad blocker rule(s) and the page will load as expected.