What does this information mean?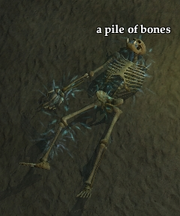 To spawn these, left click the "a pile of bones" that can be found scattered around the Valley of the Ancients. As soon as you click, the piles of bones will animate into Firerock guardians. They do not automatically agro, and a player can quickly move back after activating them to avoid being immediately attacked.
Ad blocker interference detected!
Wikia is a free-to-use site that makes money from advertising. We have a modified experience for viewers using ad blockers

Wikia is not accessible if you've made further modifications. Remove the custom ad blocker rule(s) and the page will load as expected.