For other articles with related titles, see a Crushbone emissary.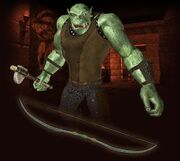 .
EverQuest II Monster Information
Race:
Orc
Level:
20▲-23▲▲▲ Tier 3 Heroic Aggressive Social
Zone:
Crushbone Keep
Location:
Near the zone to Greater Faydark and on the stairs leading down to the bottom level at Loc ( 23, -28, -63 ) 

/waypoint 23, -28, -63
What does this information mean?
You may upload a JPG or PNG image of the in-game picture of this mob
Killing this monster gives bad faction with Clan Crushbone
Ad blocker interference detected!
Wikia is a free-to-use site that makes money from advertising. We have a modified experience for viewers using ad blockers

Wikia is not accessible if you've made further modifications. Remove the custom ad blocker rule(s) and the page will load as expected.