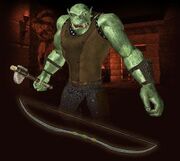 .
What does this information mean?
You may upload a JPG or PNG image of the in-game picture of this mob
Spawns near -1029.92, -46.52, 551.64 and -1068.08, 46.97, 543.53.
Spawns in a group with a Bloodskull warrior and a Bloodskull priest.
They are guarding the wooden barricades, the catapults, and the dead trees on the south east part of the commonlands.